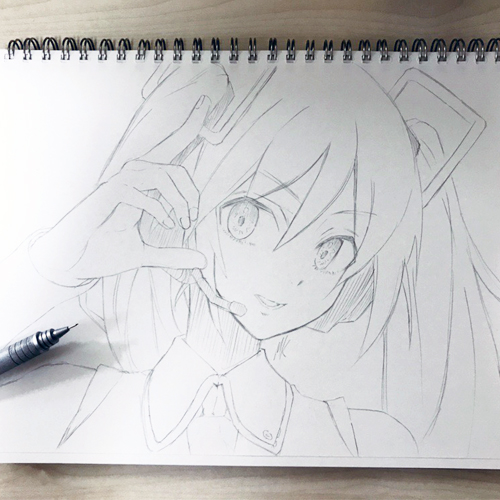 Want to learn how to get better at drawing anime? Look no further!
Calling all aspiring manga and anime illustrators!
Whether you are a total beginner, or have some experience with illustration, this subscription course will serve as a comprehensive guide to illustrating in Japanese manga style.
The course is made up of lessons designed to teach you tried-and-tested professional techniques used by illustrators in the Japanese manga and anime industry.
The course even includes videos that will show you how to draw some of your favourite anime characters!

Students enrolled in this course will be able to receive unlimited personal feedback and advice from our pros in the comments section of each lecture, to help them make fast and efficient progress!



What can you learn about manga illustration on our courses?

The course starts out with basic techniques such as:
- Drawing anime character's faces
- Sketching anime characters from different angles
- How to draw the male and female form in manga style
Later you will learn more professional manga drawing techniques such as:
- Posing
- Composition
- Using hands as a form of expression
- Drawing clothes
- Colouring and shading
- How to draw backgrounds
- Drawing school uniform

- How to create special effects

- Basic perspective

- Professional manga sketching, colouring and composition techniques
- Basic & advanced digital colouring techniques
- How to draw and compose manga comic strips
- How anime and manga character design has changed over time


Your first course of lessons includes 6 lectures, as a thank you for joining the Academy, and to give you a better idea of what to expect from the lessons to come.
After that, 4 new lectures will be released every month for a monthly charge of $35.
All students subscribed to this course will also have access to the comments section in each lecture page, where they are free to post any questions they have about the lesson, or even post pictures of their own work. There our team of Japanese pro illustrators will answer your questions, and give you personal advice and feedback!

The course has been meticulously designed to ensure that our students make fast and efficient process. Be sure to use the time between lectures wisely, and practice what you have learned!


For a rundown of all individual lesson topics and content, please check the "course curriculum" below!


Try the first lesson in the course "The Basics of Balanced Character Design" for free, and start drawing your own anime character!

Please note:
Our course is a monthly subscription course. After setting up your chosen payment method, monthly payments will be automatically deducted from your account until you choose to unenroll from the course. You can unenroll from the course at any time, via your account page. For more information, please see our FAQ's: https://animeartacademy.com/p/faqs


Get started now, and learn all about manga illustration!

Before enrolling, please note!
The lessons listed in the above course curriculum will be released to students on a monthly basis, with 4 lessons made available each month (6 in the first month, as a welcome bonus!). Students will not be able to choose which session to begin from, as our lessons build on each other and have prerequisites from earlier lessons.
Students will also be unable to jump ahead in the course, or view future sessions until that month comes around. As an online course, we have found this is the only way to effectively control our student's pacing, and ensure everyone gets enough practice between sessions. Taking your time and getting plenty of practice is the key to success!