Anime Art Academy x ASVOFF
ILLUSTRATION CONTEST

This November 10-13th sees the 14th year of ASVOFF's annual international fashion, style and beauty film festival, presented by Diane Pernet!
Not only has Anime Art Academy been invited to judge their brand new Anime and Manga category, we are also excited to be running a special illustration contest in collaboration with ASVOFF!
This contest is open exclusively to students and friends of Anime Art Academy, and offers participants the exciting chance to have their work announced and featured both at the festival, and on ASVOFF's popular social media pages.


This is an amazing chance to win some publicity for your work, and get yourself out there as an artist!
If you're reading this post, you're eligible to enter the contest!

CONTEST THEME
ASVOFF and Anime Art Academy would love for you to draw one or both of the following:


🞇
An illustration of ASVOFF founder Diane Pernet


🞇
An ASVOFF logo, in "anime/manga" style
Please see the following Google drive, where you can see pictures of Diane for reference. She has a unique and striking style, and it will be so much fun to see her drawn in all of your original manga art styles!
Click here for reference images for Diane Pernett illustration
For the logo, you might be wondering what constitutes as "anime/manga style", but anything from simply using a "pop" comic style for the letters, to actually including anime characters in the logo is great! We just want to see your creativity at work!

SUBMISSIONS & ANNOUNCEMENT OF WINNERS

Please send your submissions to [email protected] with the title "ASVOFF ILLUSTRATION CONTEST SUBMISSION".
(Without this title, the art may not be recognised as a submission for this contest, so please be sure to use it.)
🞇 Start date for submissions: September 1st 2022


🞇 Deadline for submissions: September 30th 2022
The winners of the contest will be announced both at the festival itself, and on ASVOFF's social media and website. 
Keep your eye on ASVOFF's socials, and their official website for the announcement of winners on November 14th 2022!
ASVOFF official website
https://www.ashadedviewonfashionfilm.com/
ASVOFF's socials
https://www.instagram.com/asvof/
https://www.facebook.com/ASVOFF/
https://www.youtube.com/user/ashadedview


Best of luck with the contest! We can't wait to see what wonderful creative art you come up with. We're proud of every one of our students, and can't wait for this chance to show your work off to the world!



This is the end of the info on the illustration contest, but feel free to read on if you would like to learn more about ASVOFF and their popular film festival, as well as how to submit an anime film for the short film contest.

Note: The following film contest is separate from the illustration contest, and the submission method is different. Please submit your Diane Pernett and ASVOFF logo illustrations to [email protected] and your short anime films using the method stated below.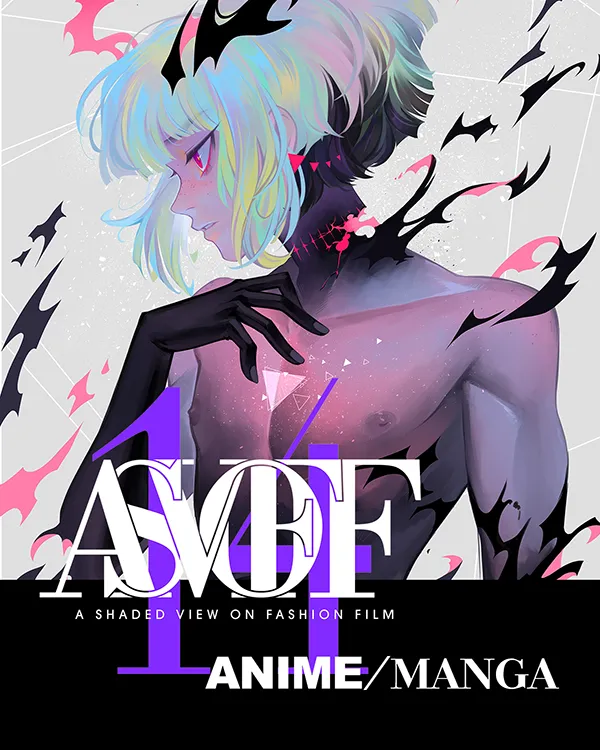 MORE ABOUT ASVOFF'S
SHORT FILM CONTEST
Since it's launch in 2008, ASVOFF has been a festival mainly based on fashion, style, and beauty. But starting from this year, they will be launching a brand new ANIME category! We are honoured to have been chosen to join the judging panel for this exciting new category. 
We are getting in touch today to let you all know about ASVOFF, and encourage you to get involved in this new category! 
Anyone is welcome to submit their short anime films to the festival, so we'd love for you to take this chance to get out there and share your work with the world! This is the very first appearance of the anime and manga category, so now is the time to get involved!


WHAT IS ASVOFF?
ASVOFF (A Shaded View on Fashion Film) is the world's first film festival dedicated to fashion, style, and beauty founded by fashion icon Diane Pernet.

Since its launch in 2008, ASVOFF has gained critical acclaim for encouraging both emerging and established artists to reconsider the way that fashion is presented and for challenging the conventional parameters of film. ASVOFF tours the globe with screenings at prestigious institutions and events like the Centre Pompidou, the Guggenheim, the Barbican, Art Basel Miami, CaixaForum Barcelona, the Franz Mayer Museum, and the Cannes Film Festival in a host of creative capitals such as New York, London, Tokyo, Milan, Moscow, and Mexico City.
ASVOFF is not only a competition of short fashion, style, and beauty films but also a traveling international event showcasing feature films, documentaries, conferences, performances, and installations – making it a must-see on both the fashion calendar and the film circuit for its genre-bending and ground-breaking program.


ASVOFF'S NEW ANIME CATEGORY
The worlds of Manga and Anime, through the mediums of film and online gaming, have opened up whole new desires and opportunities. 
In the past, brands have traditionally relied on photographers, stylists and creatives – but now, they are turning their attentions to a new generation of artists; to shape and convey their images within a digitally driven and multi-cultural 21st century. 
This makes the ongoing development of both the Manga and Anime fields a highly lucrative and sought-after one. The mission of ASVOFF 14's brand new category is to showcase these digital talents, which are at the precipice of the Manga and Anime worlds and sit within today's revered fashion film genre.

Anime Art Academy students - YOU are this brand new generation of artist! And this is your chance to get out there and show your work to the world!
Best of luck to all contestants in both the art and film contests!