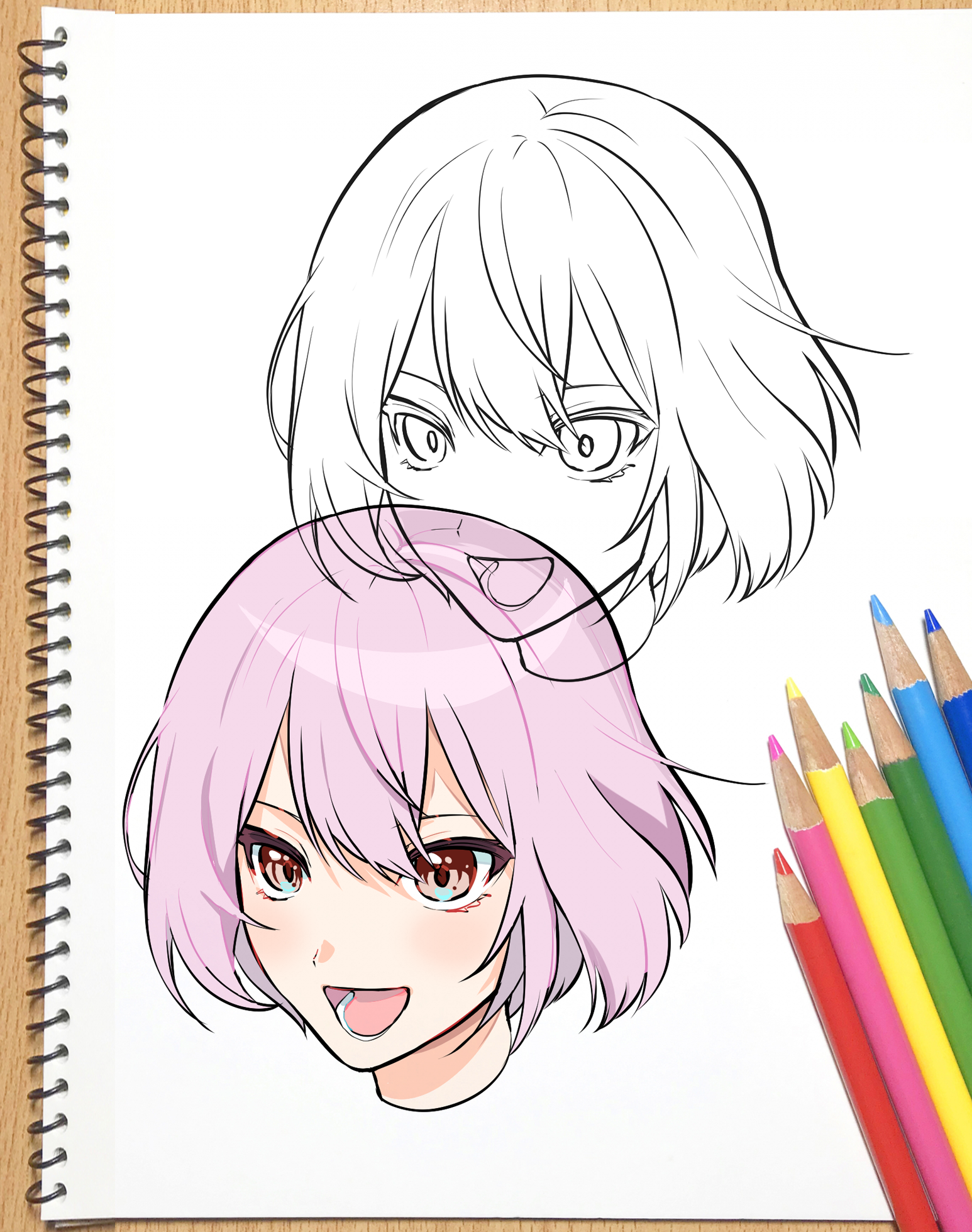 Go PREMIUM for top-quality, highly accessible video lessons and valuable practical resources

Many of our students already know and love our original 'How to Draw Anime and Manga' course.
Now we're thrilled to introduce something exciting and different – our 'How to Draw Anime and Manga: PREMIUM' course.
We will be taking you from the basics of Japanese style character illustration, all the way through to high level techniques, so you'll be able to create those awesome anime style illustrations you've always dreamed of.

We've tailored this learning experience to suit those who prefer a little extra support and guidance. Even the most challenging pro techniques will be a breeze to learn!

Tell me more!

Jump in and see all the benefits our course has to offer! This video will fill you in on all the key info in less than 3 minutes ⏰


What makes this course "PREMIUM"?
Along with the usual top-quality lesson content and pro feedback that you have come to expect from Anime Art Academy, we have added the following premium features to the course:


Moving pen strokes on screen

mean you can easily follow the teacher's every move as they draw and explain




Exclusive downloadable/printable PSD, PDF and PNG resources included with every lesson to supplement your studies



Thanks to feedback from previous courses, we've been able to

perfectly tailor content

to our students' needs




Yes, this polished and perfected premium course is guaranteed to help anyone reach pro level!
"Even me?"
Yes, even you! Especially you! The fact you're here with us now looking for ways to improve as an artist, tells us you've got the motivation it takes to succeed.

Not convinced yet? The first lesson in this course is available for free, so why not give it a try and see just how much you can learn right from Lesson 1!
Click below to go to the free lesson page

Does this sound like you?

☑️ I often struggle with putting down my first lines, or feel overwhelmed looking at an empty canvas


☑️ I find it hard to transfer the awesome artistic ideas in my head into actual pictures on the page


☑️ I find myself frustrated by stationary tutorial images...
Hey! How do you expect me to draw that if I didn't see how you drew the lines?!
☑️ I'm a digital artist, but I only really use the brush tool, and draw everything on one layer. I want to understand how to use the tools more efficiently!
If you've ever experienced any of the above issues, you are going to LOVE this premium course! Just relax and enjoy the course, because we've got you covered on all fronts.


Empty canvas phobia?

No worries!

Our worksheet-style resources are here to guide you, providing a solid foundation for your practice and serving as a perfect companion to the video lessons.
We provide worksheets in PDF and PNG format, so you can print them out or import them to your drawing software and trace right over our pre-drawn guidelines and even trace the finished lesson images!

If I can visualise it, why can't I draw it?!

We understand that sometimes an image on screen or in your head doesn't easily translate to lines on your own paper, and sometimes however hard you try, your drawing doesn't come out how you planned. Frustrating, right?
90% of the time work "just doesn't look right" it's because the balance is off. Let's fix that, and work towards creating super satisfying results!
Following our perfectly crafted guidelines, and tracing directly over our provided resources will help you get an idea of how to balance correctly and make natural looking characters. In time you will naturally get a sense of what makes a good balanced illustration.
Understanding how to create good drafts and guidelines will take away the guesswork and stress, and put the fun back in to drawing!

Is that a tablet or a sketchbook?

One of the joys of digital art is being able to use all the cool functions available to you. Particularly layers, which will make things like colouring a breeze. But it can be tough to know exactly how to use those features. It's easy to end up just using the pen tool on a single layer and feeling as if you may as well just be drawing on paper.
How do pros use all those features anyway!?
Well why don't we take a snoop inside some pro manga and anime artist's files to see exactly how they get the job done!
With exclusive access to our pro artist's PSD files included with each lesson, you're free to open them in your own drawing software and take a dive into their secret workspace. See exactly how professionals organise their colouring and linework layers, and learn what kind of layer effects they use.
Invaluable for students aiming to develop high-level digital art skills, as well as for students who just want to look at separate parts of the images in detail or create their own custom guideline worksheets.

"Huh? How did you do that?"

One of the key feedback points we took away from our first subscription course is that certain learners find it really tricky to copy images with no moving visual support. Just seeing an image on screen doesn't help when you can't imagine how it got there, or what order the strokes were drawn in.

We hear you!
So this time, we've animated our lessons, and added tons of real-time drawing!
Watch as our skilled instructors put pen to paper, demystifying even the most complex of techniques, so that you can follow along with confidence and ease.


How does this course compare with our original "How to Draw Anime and Manga" course?
Just because we have this premium course, it doesn't make the old one obsolete! The content and flow of the course is very similar, but the teaching style and techniques are totally different, so both can give you excellent results, depending on your learning style.


📚 If you're a confident independent learner who prefers textbook style explanations and gets impatient watching drawing in real time, our original "How to Draw Anime and Manga" course might be a better fit for you.


🔎 If you're someone who really benefits from watching and following a teacher's example and using pre-prepared learning resources and worksheets when studying… this premium course is the one for you!


🎲 Actually, many people benefit from multiple different learning styles, and there's certainly no harm in joining both of the courses. You'll learn lots of different approaches and techniques, so you can mix and match, and find the ones that work best for you!


Remember, if you're not sure, taking a look at the free preview lessons for each course should be your first move.

How much does the premium course cost?
OK, we know what you're thinking.

Premium course = premium price, right..?
Not this time! For just $68 USD per month, you will be able to access FOUR awesome illustration lessons per month for your first two months, and then TWO per month for every month after that.
Each lesson comes with a big bundle of valuable resources - a PSD file, and multiple PNG and PDF files for you to download and use in combination with the lesson videos. 
And don't forget, this price includes constant access to personal support from your tutors!
NOTE:
THIS IS A SUBSCRIPTION COURSE. YOU WILL BE AUTOMATICALLY CHARGED EVERY MONTH UNTIL YOU CANCEL. SEE OUR
FAQ's
FOR MORE INFO, INCLUDING HOW TO CANCEL.
Why the 4/4/2 pace? 


Because we know starting a new course is super exciting, and you will want to get stuck right in to lots of content right away!
It levels out later to a more manageable pace to prevent burnout and make sure students spend enough time on each lesson instead of cramming.



Why can't I have all the lessons at once?
We know it's tempting to speedrun all the lessons at once! But it takes time for our mind and body to process new information and develop new skills.
So take your time and really focus on perfecting the techniques from each lesson before moving on to the next.
If you're just out to have fun, feel free to mix and match with the order once your lessons are unlocked! But students who are serious about improving their art should follow the lesson order and pace.

A lot of thought goes in to ordering and pacing the course. ...Why? Because we want to see you make amazing progress of course!

If you are interested in getting access to a large set of lessons all at once, we have this option available for our original subscription course. Check the course page to find our lesson pack and bundle options.



Note: The course does not end here! Our teaching team are currently working hard on this brand new course, so more new lessons will continue to be added to the curriculum as you work through the course.

So that's it!
Only one question remains: are you ready?
Jump in and start on your road to becoming a manga master, anime legend, illustrator supreme...