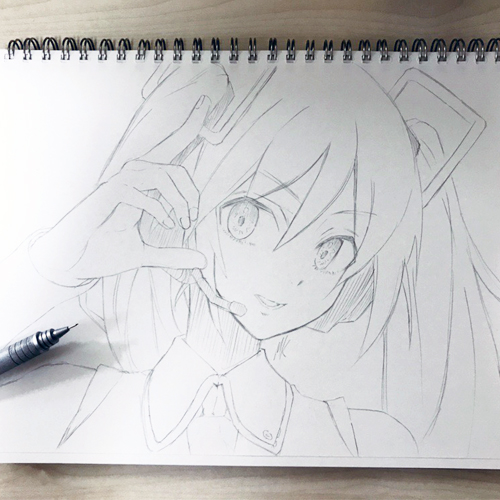 Want to learn how to draw in anime and manga style? Look no further!


Calling all aspiring manga and anime illustrators!
Whether you are a total beginner, or have some experience with illustration, this subscription course will serve as a comprehensive guide to illustrating in Japanese manga style.
The course is made up of lessons designed to teach you tried-and-tested professional techniques used by illustrators in the Japanese manga and anime industry.
The course even includes videos that will show you how to draw some of your favourite anime characters!

Students enrolled in this course will be able to receive unlimited personal feedback and advice from our pros in the comments section of each lecture, to help them make fast and efficient progress!



Is this course right for me?
If you're ready to embark on an exciting journey into the captivating world of anime and manga drawing, then this course at Anime Art Academy might be the perfect fit for you! Here's what you need to know to decide if this course is your artistic match made in heaven.
From Beginner to Advanced Mastery:
No matter your current skill level, this course has got you covered. From beginner-friendly lessons that lay the foundation of anime and manga drawing to advanced techniques that will elevate your artistry to new heights, you'll embark on a comprehensive learning experience. Whether you're starting from scratch or looking to refine your existing skills, we'll guide you every step of the way.
Textbook Format Bursting with Knowledge:
Our course takes on a textbook format, offering you a wealth of detailed knowledge and expert advice. If you thrive on diving deep into the intricacies of art techniques, this course will satisfy your thirst for learning. Packed with valuable insights, you'll discover the secrets behind creating stunning anime and manga art.
Concise Lessons with Maximum Impact:
We understand that some artists prefer concise and impactful lessons that pack a punch. Our course delivers just that! Each lesson is designed to be simple and concise, allowing you to absorb a wealth of knowledge within shorter time frames. It's an excellent choice for those who want to dive in, absorb a lot of information at once, and see rapid progress in their skills.
Self-Study Champion:
To excel in this course, self-study is key. As an independent learner, you'll thrive in this environment. Pacing yourself and taking the initiative to complete homework assignments will be essential. If you're motivated, self-disciplined, and enjoy taking charge of your own learning journey, this course is tailor-made for you.

What can you learn about manga and anime illustration on our courses?

The course starts out with basic techniques such as:
- Drawing anime character's faces
- Sketching anime characters from different angles
- How to draw the male and female form in manga style
Later you will learn more professional manga drawing techniques such as:
- Posing
- Composition
- Using hands as a form of expression
- Drawing clothes
- Colouring and shading
- How to draw backgrounds
- Drawing school uniforms

- How to create "special effects"

- Basic perspective

- Professional manga sketching, colouring and composition techniques
- Basic & advanced digital colouring techniques
- How to draw and compose manga comic strips
- How anime and manga character design has changed over time


Your first course of lessons includes 6 lectures, as a thank you for joining the Academy, and to give you a better idea of what to expect from the lessons to come.
After that, 4 new lectures will be released every month for a monthly charge of $47.
All students subscribed to this course will also have access to the comments section in each lecture page, where they are free to post any questions they have about the lesson, or even post pictures of their own work. There our team of Japanese pro illustrators will answer your questions, and give you personal advice and feedback!

The course has been meticulously designed to ensure that our students make fast and efficient process. Be sure to use the time between lectures wisely, and practice what you have learned!


For a rundown of all individual lesson topics and content, please check the "course curriculum" below!



Try the first lesson in our "How to Draw Anime and Manga" course for free, and start drawing your own anime character!


Please note:
Our course is a monthly subscription course. After setting up your chosen payment method, monthly payments will be automatically deducted from your account until you choose to unenroll from the course. You can unenroll from the course at any time, via your account page. For more information, please see our FAQ's: https://animeartacademy.com/p/faqs


Get started now, and learn all about manga illustration!

Before you enroll, please note!
For this course, we release lessons to our students on a monthly basis. As a special welcome bonus, you'll get six lessons upon, joining the course. Then each month after that, you'll gain access to four more exciting lessons.
It is also important to note that you won't be able to select which session to start with. Our lessons are designed to build upon each other, and they have prerequisites from earlier sessions. This sequential approach ensures a solid foundation and a smooth learning experience.
We also have a pacing system in place, which means you won't be able to jump ahead in the course or view future sessions until the respective month arrives. As an online course, we've discovered that this method effectively helps us guide and control the pace at which our students progress. It ensures that everyone has enough time to practice and fully absorb the techniques before moving on. Remember, taking the time to practice thoroughly is the key to unlocking your artistic potential!
If this learning style doesn't suit your preferences, we invite you to explore our "lesson sets" instead. These sets offer you the flexibility to unlock more lessons at once, giving you greater control over your learning journey.
We understand that every artist has their own unique learning style, and we're here to support you in finding the approach that suits you best. Whether you choose the monthly release or the lesson sets, our goal remains the same: to provide you with top-level instruction and help you thrive on your journey to becoming a pro artist.
If you have any further questions or need assistance in selecting the right option for you, please don't hesitate to reach out to us by email or DM. We're here to guide you and ensure you have an incredible learning experience!
Happy studying everyone!
The Anime Art Academy Team